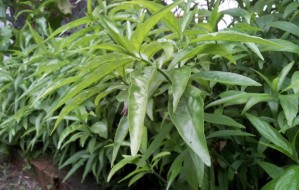 History of vishalata
Vishalata is a herbal plant found in the jungles of Kerala which has been traditionally been used for treating snake, scorpion and other poisonous insect and animal bites. It is called Sabah Snake Grass (SSG) in English and its botanical name is clinacanthus nutans. The use of vishalata in southeast Asia has seen a surge since the publication in Kwong Wah Yit Poh Press of Mr Liu Lian Hui's (from Taiping) remarkable story of having recovered from terminal stage cancer after consuming the leaves of vishalata. Many other users with chronic diseases such as cancer, heart and kidney problems have recovered after consuming vishalata leaves regularly. More and more users have benefited from vishalata that has helped to reduce pain and suffering from chronic diseases.
Vishalata plants
Vishalata helps to:
reduce suffering from various kind of cancer e.g. lung, breast, prostate, uterus and leukemia etc.
reduce uric acid, cholesterol and improves diabetic and arthritic condition
reduce blood pressure, improve blood flow and increase cardiac contractility
improve skin problems eg. eczema, shingles and psoriasis
improve dialysis discomfort and kidney diseases
detoxify, heals bruises and swelling, reduces chronic fatigue and chronic pain
relieve constipation, diarrhoea and colon problems
relieve sinus trouble, chest colds and pneumonia
relieve asthma and respiratory problems
relieve gall bladder and liver problems
heal various kinds of ulcers
Nutritional value of vishalata
Based on the research done by Vegetable Research Institute Guangdong Academy of Agricultural Sciences and College of Horticulture in South China Agricultural University, vishalata has the following nutritional value:
Has very high content of flavonoids which are known for its antioxidant ability in inhibiting and preventing cancer and cardiovascular diseases
Contains many essential minerals, vitamins, more than 45% of crude protein and 17 amino acids that provides beneficial medicinal value
Rich content of vitamin C, protein, dietary fiber and minerals that has a scavenging effect on free radicals and cancer prevention
Contains high phosphorus, calcium, magnesium and other mineral and some trace elements eg. iron
Vishalata usage in other part of the world
Thailand: fever, herpes infection, anti-snake venom, treat scorpion bites and nettle rash
China: haematoma, contusion, strains and sprains of injuries and rheumatism, regulate menstrual function, relieving pain, anaemia, jaundice and setting of fractured bones
Indonesia: dysentery, diabetes, dysuria, kidney diseases
 How to take vishalata
Vishalata leaves should be taken on an empty stomach in the morning. Powder the dried leaves in a electric mixer and store in a pearl pet jar. Take two tablespoons of this dried leaf powder with a glass of water or with freshly extracted apple juice or green coconut water. Do not add sugar, salt or any masala to the juice if you take vishalata leaves with juice.
Ten grams or four tablespoons of vishalata leaf powder should be taken each day by cancer patients. This dosage may be increased or decreased according to the patient's condition. Vishalata may cause a healing crisis initially such as fever, diarrhoea, vomiting. This is to be viewed as a positive sign  and patients should not suppress these symptoms but let them run their course. Healing will soon follow.
 Availability of vishalata plants in Assam
Vishalata plants are now available in Golaghat at Hotel Madhuram on Jail Road. These plants can be planted in pots or in the ground. They should be watered and given organic manure regularly.  For purchasing vishalata plants,  please contact the following people in Golaghat, Assam:
Babul Lahkar, 03774—280264 ( call at 8 a.m. or 8 p.m.), Mobile: 09531217352
Availability of dried vishalata leaves
Dried vishalata leaves can also be obtained from Shri Babul Lahkar in Golaghat. The leaves can be powdered and taken with water on an empty stomach. A herbal tea can also be made from the leaves. Several patients especially those suffering from oral  cancer have benefited from taking vishalata herbal tea.
Vishalata cultivation at Rongajan, Assam
Bulk supply of dried vishalata leaves
For bulk supply of dried vishalata leaves kindly contact Shri Anurag Agarwal, Bangalore at the following numbers:
Mob: 08277274737, E-mail:rakhi@ymail.com
Dried vishalata leaves
How much vishalata to take each day
Usually 10 grams of dried vishalata leaves or four tablespoons of vishalata powder is recommended for patients of chronic diseases such as cancer.  This dosage can be increased or decreased according to the patient's condition.
Vishalata should be taken on an empty stomach in the morning for best results. It can be taken with water or with freshly squeezed green apple juice.
Can vishalata be taken while undergoing chemotherapy
Patients who are undergoing chemotherapy should not take vishalata on the day of their chemotherapy. They should wait for a day and then take the vishalata. Several patients have reported that taking vishalata helped mitigate the after effects of chemotherapy such as nausea, loss of appetite, dizziness etc.
Vishalata for oral cancer patients
Patients who have difficulty in swallowing or eating can take an infusion of vishalata. Similarly patients who are being fed by a nasal tube can be given vishalata infusion through the tube. Improvements in the patient's condition will be observed in a few days.
Flowering vishalata